Opinion: The Budget won't budge it
The Budget won't Budge it:
Rights and Accountability, not just a cash splash, must be at the heart of Aged Care Reform.
By Daniel Peet and Dimitri Osianlis
Since 1997, 18 Government inquiries have investigated various aspects of Australia's failing Aged Care system.  Their reports have failed to alter a status quo of abuse and neglect because successive governments have not responded with meaningful reform. This disgraceful history reveals a pattern of wilful blindness. As to these many prior investigations, the recent Royal Commission into Aged Care Quality and Safety found that:
"While governments have responded with ad hoc reforms to elements of the system, they have not been able to resolve the underlying problems with a system that has failed to provide the Australian community with the assurance of quality and safety in aged care that it expects."[1]
In its 2021-22 budget, the Morrison government has earmarked $17.7 billion for a 'once in a generation' overhaul of aged care. However, the many underlying deficiencies in the aged care system mean that this spend is unlikely to result in lasting improvements unless it is reinforced by comprehensive changes. The government's response[2] to the Royal Commission's Final Report,[3] released in the shadow of the budget, promises no such commitment.  Three key features of the response are of the greatest concern to ALARM: ie:
The plan fails to sufficiently address the Commission's four top priorities for reducing neglect;
The funding lacks a strategy to improve the system of accountability for abusive providers. Importantly, it lacks the checks and balances to ensure that spending improves the conditions of care recipients rather than propping up private enterprises;
The government has failed to provide elderly residents with a more comprehensive framework of enforceable rights.
The four high-priority areas of abuse singled out for immediate improvement by the Royal Commission are food and nutrition, dementia care, the use of restrictive practices, and palliative care. The government's plan fails to comprehensively tackle these problems.
On food and nutrition, no specific provisions seek to improve the quality of meals in aged care. Currently, the average amount spent on nutrition per resident per day is $6.08.[4] This figure is the product of a race to the bottom between providers trying to cut costs. It is less than Australia spends on feeding prisoners.
The only measure taken to address this in the government's budget reply to the Commission's 144 recommendations, is a share of a $10 'Daily Basic Fee' per resident.[5] The payment is conditional on providers self-reporting that they have met the basic needs of their residents, but the money will be spread thin between all aspects of the aged care experience. Self-reporting is not accountability under the current system of lacklustre audits, while 'basic needs' do not guarantee comfort and dignity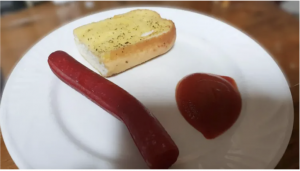 An image of food served in an Australian aged care home, sent to lobby group Aged Care Reform Now  (Source: Aged Care Reform Now).
On dementia care, palliative care, and restrictive practices, the government's plan also fails to take strong action. Part of the response is an increase in 'minimum care minutes' to 200 per patient per day, including 40 minutes with a registered nurse. While this requirement is to be introduced next year, it will not be enforceable until 2023. To its credit, the plan proposes to introduce laws that define restrictive practices and regulate their application 'as a last resort' from July 2021.[6] These changes clarify the level of care that can be expected by patients (especially those with dementia) and their families in principle. However, they fail to address the staffing practices and conditions that led to the prevalence of such neglect in the first place.
An important factor in non-compliance with quality standards by providers is understaffing and underpayment. Minister Hunt's announcement of the government's plan was silent on the ongoing work value case being litigated by the Health Services Union in the Fair Work Commission on behalf of aged care employees. This action is being brought because the workforce is poorly compensated and increasingly casualised by Australia's network of largely private providers. Recommendation 110 of the Royal Commission called for the minimum wage for nurses to be raised by 30%, but this proposal was rejected.[7]
With staff pay-rises sharing the $10 per resident per day funding increase with nutrition and other issues, there is every chance that improved standards promised in the new plan will not be met by many facilities. This is because the government's plan for aged care does not directly improve working conditions.
Australia's many private aged care providers – especially the "for profit" sector – are a sticking point for regulating much of the abuse that residents currently face.  This unwieldy mix of organisations is regulated by the Aged Care Quality and Safety Commission (ACQSC), a body responsible for both assessing compliance and shutting down the worst providers. However, the administrative and financial burden of shutting down these facilities creates a clear conflict of interest that incentivises the ACQSC to 'go soft' on its audits.[8]
Recommendation 10 of the Royal Commission insists that ACQSC should be abolished and replaced by July 2022. Though the government accepts this assessment, the commission reviewing the ACQSC will not begin until 2023.[9] Instead, $262.5 million in new funding has been allocated to the body to continue conducting its, to date at least, flawed investigations. This plan extends the tenure of the inept watchdog for an indefinite period.
Similar accountability concerns surround the funding allocated to aged care providers in the budget with few strings attached. The Budget's biggest spends on aged care are the $10 Basic Daily Fee and the creation of a large number of new home care plans. These packages are crucially necessary because home care keeps elderly people out of residential care and current delays in accessing home care packages are eye-watering. The challenge with new funding is to prevent the exploitation of current plans by the network of private providers that administers them. Some of the worst examples of these failures in a 2019 Research Australia investigation included:[10]
One aged care provider that billed over $600 to supply a service valued at $130;
Another provider that billed $400 – $500 monthly to organise support services for three hours a week;
Other providers took up to 53 % of the home care package in fees;
A provider charged $130 per hour for a support worker on a public holiday.
ALARM is concerned that the government is pouring money into a sieve without a plan to address major loopholes that providers have already used to exploit already meagre spending for profits.
According to Professor Joseph Ibrahim, "to a public audience, another $10 for mum is great, Scott Morrison will present it as money for residents, but behind closed doors, it's money for operators to stop them whingeing at the government."[11]
This will limit the capacity of the government's 'once in a generation' spend to solve issues that have persisted through two decades of failed efforts at reform.
Finally, the government's plan for aged care does not alter the many barriers facing aged care recipients who attempt to seek redress in the legal system. Aged Care residents are not given stronger personal rights and protections by this legislative agenda. The Royal Commission's Recommendation 102 would introduce a system of civil penalties which would make providers liable to compensate residents they abuse in some cases, but this was rejected.[12]
The government's acceptance of changes to privacy laws under Recommendation 105 is promising but no deadline has been provided for these reforms.[13] These alterations are crucially important to protect patients with more advanced care needs by keeping loved ones in the loop about serious incidents.
Supporting the rights of aged care residents is crucially important because the status quo of residential care makes it difficult for many to access the justice system. Elderly people with advanced needs often have a diminished capacity to communicate or make complaints. Additionally, the concept of damages in our courts is not well adapted to redress abuse that they have suffered. This is because key types of claims like negligence often compensate victims for loss of employment or harms to life expectancy, resulting in poor legal prospects for residents suffering neglect or abuse by brazen providers.
For these reasons, the government has failed to respond to many of the systemic issues that continue to plague aged care. Its attempts to hide this lack of commitment behind an inadequate 'cash splash' will perpetuate many of the harms that mismanagement of the sector has caused.
If this article has raised any issues for you or someone you know, reach out to ALARM on (03) 9016 3248. We're always here to provide referral to legal services, non-legal advice and assistance on any matters related to Aged Care. Email us on info@agedcarejustice.org.au
[1] P.50 RC Background Paper No. 8.
[2] See Australian Government Response to the Final Report of the Royal Commission into Aged Care Quality & Safety (May 2021) ("Govt Response").
[3] See Royal Commission into Aged Care Quality & Safety, (8 Vols, February 2021) ("RC Final Report").
[4] RC Final Report, vol 3A, 101.
[5] P.76 Government Response.
[6] P.16 Government Response.
[7]  P.74 Government Response.
[8] RC Final Report, vol 3, 76.
[9] P.11 Government Response.
[10] Sarah Russel, "Older People Living Well with Home Care Support," 2019 Research Matters Older-People-Living-Well-with-In-Home-Support.pdf (agedcarematters.net.au).
[11] https://www.smh.com.au/national/chefs-say-budget-money-for-aged-care-wont-end-up-on-residents-plates-20210514-p57s4v.html.
[12] P.65 Government Response.
[13] P.66 Government Response.