Access to Justice for Aged Care Residents with Disabilities
Sep 22, 2021
/
/
Comments Off

on Access to Justice for Aged Care Residents with Disabilities
By Emma Greenwood[1]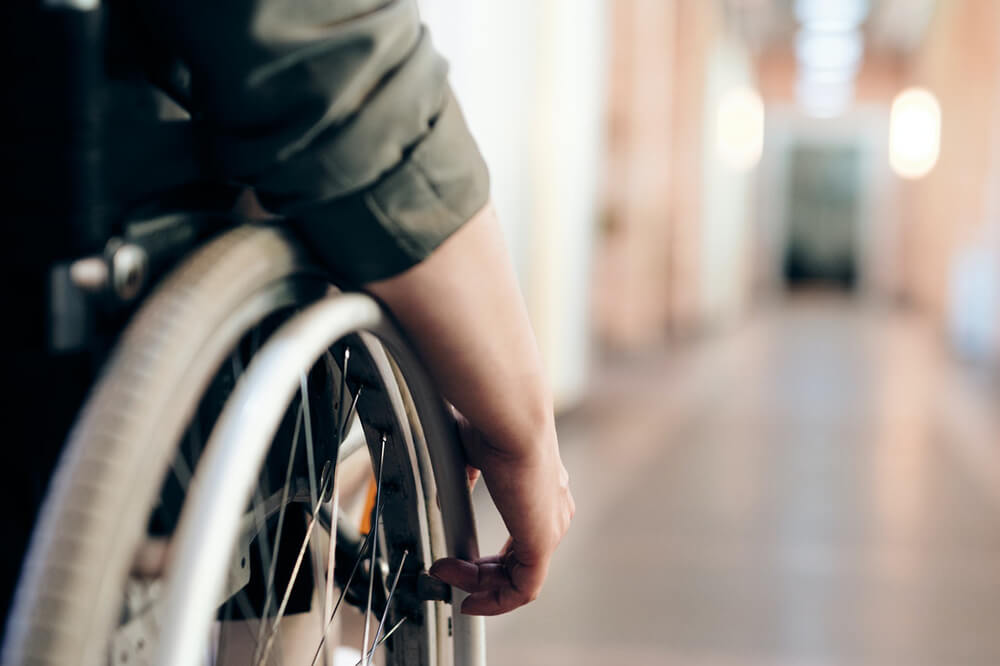 The Problem

The recent Royal Commission into Aged Care ("Royal Commission") brought many uncomfortable truths about Australia's aged care system into public consciousness. One is difficulties older Australians and aged care residents currently experience in accessing the care they need; another is securing access to justice when their rights are infringed.[2]
Half of Australians over 65[3], and 84.6% for those aged 90 and above, [4] are affected by disabilities.  Further, 96.1% of aged care residents have a disability as the aged care system steps in when individuals are no longer able to live independently.[5] Residents over 65 are no longer covered by the National Disability Insurance Scheme.[6] Given these statistics, coupled with Australia's ageing population, it is evident that access to justice for aged care residents with disabilities requires more attention: Australia needs an aged care system that caters to these specific barriers to justice.
Discussion
Discussion of this issue requires acknowledgement that the presence of disabilities or chronic illnesses are 'particularly associated with the presence of legal problems,'.[7] Indeed, Australians with disabilities deal with a higher prevalence of legal problems than able-bodied persons.[8] Further, these legal issues tend to be particularly complex, and may constitute a cluster of multiple separate legal issues.[9] This is because the terms 'disability' and 'chronic illness' are part of a broad spectrum of conditions that may be physical, intellectual or social in nature. Individuals may demonstrate a combination of several conditions which may vary greatly regarding their severity, onset, and longevity.[10] The diversity of conditions encapsulated by the term 'disability' means that, in the context of a legal problem, a unique combination of factors may be at play for any given individual.
Academic research has referred to the existence of a 'two-way relationship between chronic illness or disability and legal problems,'.[11] This relationship acknowledges that while presence of disability may trigger related legal problems, such disability conditions may themselves be brought about or worsened by the impact of ongoing or multiple legal problem(s). [12] This 'two-way relationship', as well as legal complexity can contribute to a significantly lower rate of resolution of legal issues experienced by disabled Australians compared to their able-bodied peers.[13] These findings are consistent with the systematic social exclusion faced by those suffering a disability or chronic illness in their everyday lives.[14]
Accepting this link between disability and legal problems, a consideration of the specific barriers that aged care residents with disability face in accessing justice becomes critical.
Barriers to Accessing Justice
One significant barrier is communication. As noted above, conditions embraced by the terms 'disability' or 'chronic illness' are very diverse. Communication difficulties may thus occur regarding the complainant's comprehension of the legal process involved due to literacy, language problems, or a lack of legal knowledge.[15] Partly due to social exclusion, older persons with disabilities often lack the confidence to answer complex questions associated with the legal process.[16]  Self-help strategies such as becoming a complainant and/or reporting abuse, are thus often ill-suited to those with communication difficulties.[17]  According to the Royal Commission, complainants and their representatives experience real difficulties navigating the procedures involved in order to report abuses under the current aged care system.[18] Difficulties may also arise when legal professionals or representatives (both formal and informal) do not adequately understand, or adapt to, a complainant' limited communication abilities.  This may result in a perceived reduction in a complainant's intelligence, or the posing of leading and complex questions that prompt confusing answers.[19]
Residents also suffer from an inability to access information in a digestible form. Without knowledge of their rights, individuals in care may be unable to identify a break of of their rights, particularly in situations of abuse.[20] These factors significantly lower the likelihood of an individual seeking help.
These barriers are linked with social and economic disadvantage.[21]  Multiple studies have reported a low awareness of legal services and sources of information available to older people,[22]  further cementing  ignorance of their rights. For those living in full-time care, as many older Australians with significant disabilities are, a significant fear of retribution from service providers may arise if they were to make a complaint.[23]
These significant barriers to justice for older Australians with disabilities exist in the context of an aged care regulation process that possesses 'many deficiencies,'.[24] As stressed by the Royal Commission, the current system's regulation process for complaints is not 'focused enough on outcomes' and does not sufficiently protect older Australians in aged care.[25]
ALARM's Necessary Reforms
ALARM acknowledges the complex legal problems faced by those with disabilities, and what this means for them as they age. It is clear that the current aged care system is inadequate to protect the rights of those with disabilities in aged care.  More protections must be put in place to enable sufficient access to justice by aged care residents with disabilities.
The services accessed by these Australians must include the capacity to resolve complex legal issues in a way that addresses the many barriers faced by complainants.[26] Policymakers must recognise and act on the fact that older Australians, many of whom live with a disability, require additional support to deal with their legal issues.
Get Help
If you or someone you know needs legal assistance, we encourage you to fill out ALARM's GetHelp form on our website at www.ALARM.ORG.AU; or contact ALARM on (03) 9016 3248; or email us on info@agedcarejustice.org.au. You may then select, or, if you wish, we will direct you to, one of our Allied Law Firms for an initial meeting and advice, at no cost to you. Thereafter, you can decide whether to proceed with a formal legal complaint.  If you do wish to proceed, costs arrangements, if any, will need to be discussed, and agreed, with the firm.
Sources:
[1] Law Student, Monash University, ALARM Inc. Volunteer. The author acknowledges the valuable assistance of Senior ALARM volunteer lawyers in the preparation of this article.
[2] Royal Commission into Aged Care Quality and Safety (Final Report, Executive Summary, March 2021) 65 ('Royal Commission Summary').
[3] Australian Bureau of Statistics, Disability, Ageing and Carers, Australia: Summary of Findings (Catalogue 4430.0, October 2019). https://www.abs.gov.au/statistics/health/disability/disability-ageing-and-carers-australia-summary-findings/latest-release.
[4] Ibid.
[5] Ibid.
[6] Royal Commission Summary 120.
[7] Susannah Sage-Jacobson, 'Access to Justice for Older People in Australia' (2015) 33(2) Law in Context 142, 146 ('Sage-Jacobson').
[8] Victoria Legal Aid, Submission to the Office of the High Commissioner for Human Rights, Article 13 – Access to Justice, Convention on the Rights of Persons with Disabilities (10 May 2017) 3.
[9] Ibid, 3.
[10] Christine Coumarelos and Zhigang Wei, The legal needs of people with different types of chronic illness or disability (Justice Issues Paper 11, 2009) 3.
[11] Ibid,.
[12] Christine Coumarelos, Zhigang Wei and Albert Z. Zhou, Justice made to measure: NSW legal needs survey in disadvantaged areas (Survey, 2006) 173 ('Justice Made to Measure').
[13] Sage-Jacobson 151.
[14] Justice Made to Measure 208.
[15] Ibid, 195.
[16] Ibid, 208.
[17] Christine Coumarelos et al, Legal Australia-Wide Survey: Legal need in Australia (Survey, 2012) 44.
[18] Royal Commission , (Final Report – Volume 3B: The New System, March 2021) 512.
[19] Tasmania Law Reform Institute, Facilitating Equal Access to Justice: An Intermediary/Communication Assistant Scheme for Tasmania? (Final Report No. 23, January 2018) 11.
[20] Australian Human Rights Commission, A Future Without Violence: Quality, safeguarding and oversight to prevent and address violence against people with disability in institutional settings (Report, June 2018) 15.
[21] Susan Edwards and Antonia Fontana, Legal Information Needs of Older People (Literature Review, 2004) 1.
[22] Ibid, 4.
[23] Ibid, 11.
[24] Royal Commission Summary 77.
[25] Ibid.
[26] Justice Made to Measure 190.
Disclaimer:

The views expressed in this article are the views of the author.  The contents of this article are for general information purposes only and do not constitute legal advice, are not intended to be a substitute for legal advice, and should not be relied upon as such. Legal advice should be sought prior to any action being taken in reliance on any of the information.  If you are in need of legal advice and/or assistance about aged care matters, please seek legal advice directly or via ALARM's GETHELP form on its website.